Who is Paul Forman? Meet Nicolas de Leon from Emily in Paris season 3
The third season of the hit Netflix series Emily in Paris has just been released and audiences are raving about it. On December 21, 2022, the third season of the program premiered on the massive streaming service.
For those of you who don't know, Emily in Paris is a television show about a Chicago marketing executive named Emily Cooper. In the program, Emily is hired by a marketing company in Paris to provide an American point of view. While searching for love and enduring culture shock from her traditional Midwestern upbringing, she struggles to succeed at work.
Besides Lily, Ashley Park, Lucas Bravo, Samuel Arnold, Bruno Gouery, Lucien Laviscount, Camille Razat, William Abadie, Philippine Leroy-Beaulieu and Lucien Laviscount are other cast members of the television series Emily in Paris.
Emily's family in Paris has a new member this year. Emily's romantic situation will get more complicated. Paul Forman, who plays Nicolas de Leon in the performance, will make you swoon. Read on to learn all about Netflix's newest cast member, Paul Forman.
What role does Paul Forman play in season 3 of the Netflix show 'Emily in Paris'?
In season 3 of the Netflix series Emily in Paris, Paul Forman plays the role of Nicolas de Leon. He's the new hottie willing to light up our screens. According to his IMDb page, he appears in six episodes of Emily in Paris this season.
Nicolas "appears to be living a charmed life as the crown prince of his family's major conglomerate, JVMA," according to Netflix. Beneath the heavy burden of the de Léons' illustrious money and reputation, the impetuous director is nevertheless determined to distinguish himself from a favoritism baby.
Here's Everything You Need To Know About Paul Forman (Including His Age, Ethnicity, And More)
Paul Forman is an actor and model by profession. He is currently 28 years old. He currently lives in London, England. He describes himself as the "Frenchiest Englishman" and says he is of French and British descent.
Forman has appeared on the covers of numerous publications over the years, including Chromatica Magazine and L'Officiel Art Polska. In addition, he has worked on photo assignments for well-known companies, including Schwarzkopf, Cartier and Rimmel London.
Initially, Paul Forman thought that modeling was not his cup of tea
Yes, it's what you read. Paul is a natural in front of the camera, but he got into modeling by accident. At 5 feet 11.5 inches tall, he claimed in a media interview that he wasn't cut out to be a model because he wasn't "tall or unusual".
Forman continued by saying that even though a small modeling agency in Chelsea, London recognized his talent, it still wasn't enough to get him his big break. He switched between different agencies until he could get more work.
While it gives him a way to "live and feel life and emotions in their purest form," Paul considers himself more of an actor.
Paul Forman played in a few shows before
Emily in Paris is not Paul Forman's first television series; he has appeared in a number of others. Paul has already appeared in a few TV shows. He appeared in the ITV comedy McDonald and Dodds and the Starz series The Spanish Princess respectively.
Forman has appeared in the brand new series Riches on Amazon Prime Video. In five episodes of the show, he played the role of Luke. In addition, he has also portrayed Stéphane in Brian Gleeson's Frank of Ireland series on Amazon.
You can exercise at home at Paul Forman
It is clear from his good looks that Paul exercises. His toned figure is proof that he exercises often. The actor previously worked as a fitness trainer on the video-sharing website YouTube.
In the year 2016, Paul created his YouTube channel. He has now uploaded only 3 videos to his YouTube channel. One of his workout videos shows him instructing his viewers on how to get a more sculpted core.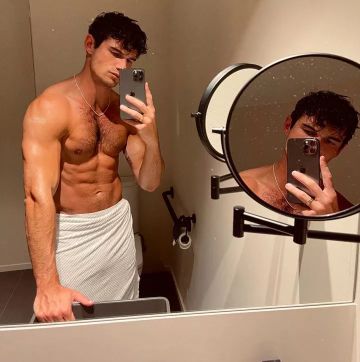 The fitness expert uploaded a video of him directing an upper body workout to his official YouTube channel in 2020. He was seen in the video wearing a pair of white socks and short blue Adidas shorts.
In the video, Forman exercised on a turquoise yoga mat next to a swimming pool in the southern French hills while using a set of weights. The film was shot "on a really hot day," according to the aspiring actor, and has been viewed more than 8,000 times.
Does Paul Forman have a profile on Instagram?
The answer to the previous question is a resounding yes. Paul Forman has an Instagram account, just like most stars in the entertainment world. He currently has over 82,000 Instagram followers.
Forman currently has 145 posts posted to his Instagram feed. When we checked out the actor's Instagram account, we discovered a few photos of him from his international travels, some photos of him with his friends and family, some breathtaking photos of him during photo shoots, and a few photos of him with the Emily in Paris cast members.
Forman's most recent photo shoot with Vogue Turkey takes center stage in his most recent Instagram post. He simply wrote, "POV: Eagerly waiting for @emilyinparis to come out TOMORROW," below the slideshow of black and white photos.
Have you seen Emily in Paris Season 3 on Netflix? Share your thoughts on it in the comment box below if you watched it. Check back with us regularly for the latest information from the entertainment industry.
Our DCS team consists of 5 different writers who are proficient in English and research-based content writing. We allow and encourage them to follow the entertainment news throughout the day. Our posts, lists and even the exclusive offers are the result of their hard work.