Where is Shannon Elizabeth who played 'Nadia' in American Pie in 2023? She is now almost 50
What is actress Shannon Elizabeth doing now? She is known to cinema and television viewers around the world for her bombshell characters in teen comedy.
See how she spends her time since American Pie by looking at her life and profession!
Background information
Houston, Texas, welcomed Shannon Elizabeth to the world on September 7, 1973. In 1991, she graduated from high school in Waco.
She cheered and played tennis in high school, and for a while even considered making tennis her job.
However, her passion for tennis changed when she was chosen to appear in a music video. Ultimately, Elizabeth's entry into the acting world was made possible by these modeling jobs.
Elizabeth started acting after working as a model for Ford and Elite agencies and taking small roles in USA High, Arli$$, Step by Step and Hang Time.
In addition, she appeared in the made-for-TV drama Blade Squad, the horror classic Jack Frost, and the action movie Blast.
American pie
Elizabeth got the exposure she needed to succeed, but it wasn't until age 26, when she was cast in American Pie, that she made her breakthrough.
A group of high school students try to lose their virginity before graduating from American Pie, one of the most famous sex comedy franchises of the late 1990s and early 2000s.
Elizabeth's persona Jason Biggs' character Jim's wish is granted by the seductive foreign exchange student named Nadia.
Much of the humor in the movie revolves around a plan to get Nadia to sleep with Jim.
Even in a well-known scene, Nadia is surreptitiously taped getting dressed while her friends watch from a distant place.
Elizabeth admitted in a 2019 interview that this sequence is disturbing and that most of the material in the American Pie movies would probably not be liked today given the rising awareness around the MeToo movement.
Elizabeth has made three American Pie movies: the first, American Pie 2, and the third, American Reunion.
She has credited the franchise for advancing her career and providing opportunities to play other types of characters and pursue interests other than acting.
What did she do after American Pie?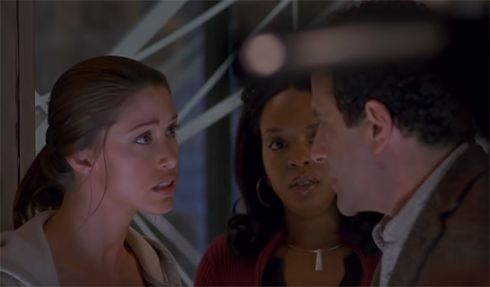 Elizabeth continued to perform after the huge popularity of American Pie. She made notable cinematic appearances in Scary Movie, Tomcats, Love Actually, Jay and Silent Bob Strike Back, Thir13, and Ghosts and many others.
Elizabeth appeared in nine episodes of That '70s Show and thirty-one episodes of Cuts as Brooke Rockwell and Tiffany Sherwood, respectively.
She has even performed character voiceovers in the James Bond video game 007: Everything or Nothing and King of the Hill!
She continued to model occasionally throughout her career, appearing in several music videos for artists such as Chris Brown and Enrique Iglesias.
She even hosted six episodes of Live Nude Comic, a program that featured burlesque dancing alongside comedy routines.
She returned to the role of Nadia in American Reunion in 2012, and in Jay and Silent Bob Reboot in 2019, she reprized the role of Justice.
What is Shannon Elizabeth doing now?
While she will star alongside Danny Trejo and Frank Whaley in the upcoming crime film Alone Today, Elizabeth's most recent appearance in 2020 was Playing with Beethoven.
Elizabeth plays a woman in the film who tries to turn her life around after an abusive relationship.
Shannon Elizabeth continues to perform, but is also making time for a number of other interests.
She founded Animal Avengers in 2001 in Los Angeles, a group dedicated to rescuing, raising, and caring for dogs and cats.
Elizabeth made the decision to broaden her scope to focus on more international animal issues as her understanding of animal rights issues grew.
She founded the Shannon Elizabeth Foundation after moving to South Africa in 2016 and continues to do important conservation work, including advocating for stronger protection for ecosystems and species such as the black rhinoceros.
Poker
Elizabeth started playing poker with her family when she was a young child, and over time, what was initially a hobby developed into a second job for her.
She has amazing career earnings of over $245,000 and has participated in hundreds of celebrity poker events!
Private life
Elizabeth and Simon Borchert fell in love after meeting through their shared passion for conservation in 2015.
Borchert, a fellow conservationist, worked with Elizabeth to focus the foundation's efforts on promoting knowledge and understanding of their most important topics. They have been married since 2021.
Shannon Elizabeth is a truly flexible person who uses her skills and resources to make the world a better place. We look forward to following the future steps of her journey!
Our DCS team consists of 5 different writers who are proficient in English and research-based content writing. We allow and encourage them to follow the entertainment news throughout the day. Our posts, lists and even the exclusive offers are the result of their hard work.