The Ultimatum: Marry or Move On: Is It Staged or Authentic?
The popular reality TV shows "Love is Blind" and "Selling Sunset" are all produced by Netflix. This list can now include "The Ultimatum: Marry or Move On". According to Deadline, the drama, which dethroned "Bridgerton" for the top spot, skyrocketed into Netflix's top 10 most-watched shows upon its release in 2022.
Each couple in "The Ultimatum" had one member who was ready to get married and one who wasn't. This tested their relationships. Before they could really begin the experiment of dating someone else, one of the couples, Hunter and Alexis, decided to get engaged. Alexis explained to US Weekly why she decided to join the show. Because it was a great event for us, she continued, "Not only will we watch it back, but we'll share it with our kids one day." The couples had many incredible experiences, but there was also a lot of conflict.
Chaos resulted from the show's contestants starting to feel things for people other than their relationship. People started to question if the show was real because of the intense drama between the couples and the fights that took place. According to ScreenRant, several reality shows have been staged. So it makes sense why people started to wonder if these relationships were real. Do they really care about each other? And was "The Ultimatum" generally written?
The ultimatum is authentic
Drama in reality shows is known for entertaining viewers. The unorthodox way in which "The Ultimatum" tested relationships was no different. Despite how fascinating the show was, many believed it was fabricated. Producer Chris Coleen, speaking to E! News dispelled those rumours.
According to The Cinemaholic, many producers of Netflix's "Love is Blind" worked on "The Ultimatum." Both programs focus on romantic relationships and the search for love. According to Life&Style, one of the candidates' siblings reportedly refuted claims that "Love is Blind" was written in the script. Melissa Cuevas, whose brother appeared on the show, took to social media to respond to fan questions and denied that the program was ever made up.
Similar efforts have been made by the creators of "The Ultimatum" to maintain the authenticity of their program. E! News claims that Coleen and her team producers are using social media to find new cast members for the program. "Obviously we do everything that typical casting teams do in terms of having a social media presence, but we also try to really dive deep into the community and talk to people and go to the community groups and bars and wherever you can go in this period," he said. Coleen stated that the selection process assesses whether the couples are faithful to the program's premise. To properly confirm that the couples are credible, producers interview the potential partners and even chat with their loved ones.
Contestants claim producers surprised them on The Ultimatum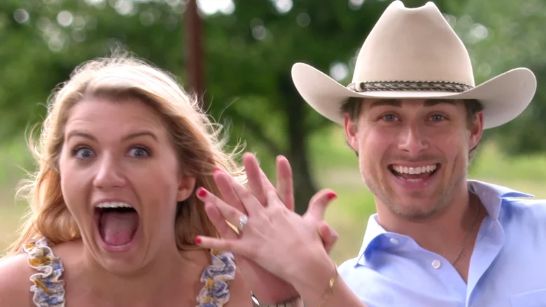 A reality show needs drama, heartbreak, and litigation to keep viewers interested, and "The Ultimatum" offered all three. There were some surprising surprises, as some of the show's candidates have revealed in their experiences.
Jake Cunningham, who was involved in a love triangle on the show, claimed he was unaware that an ultimatum would even be issued. But [it wasn't] until the first interviews we really learned, "Hey, an ultimatum needs to be issued," said Cunningham, speaking to Buzzfeed. And that really shocked us! Many of us were completely unaware of the ultimatum or connection between marriage and the show. Another couple, Nathan Ruggles and Lauren Pounds, admitted on a podcast that they too had no idea what the show was about. (Source: TikTok.) The couple claims that Ruggles was actually chosen by the producers to give the ultimatum.
"The Ultimatum," like many reality TV shows, tried to advise couples on what to say and how to behave. Randall Griffin and Madlyn Ballatori were one of the couples trying out a new kind of connection. Griffin appeared in a message Ballatori posted on Instagram posing as a producer. Let's continue talking about your affection, he gestured. Let's get it done. Not so much with your ex as with the one you currently have. Reality shows are just reality shows after all. There are real moments and moments that might seem a little dark.
Our DCS team consists of 5 different writers who are proficient in English and research-based content writing. We allow and encourage them to follow the entertainment news throughout the day. Our posts, lists and even the exclusive offers are the result of their hard work.