The end of the Big 4, explained: why did the Big 4 leave Dina?
Timo Tjahjanto wrote and directed the action comedy "The Big 4" on Netflix. The Indonesian film, starring Abimana Aryasatya, Putri Marino and Lutesha, explores the lives of four trained assassins. They flee and take refuge on an island when their adoptive father is murdered. That is, until his real daughter appears and demands an explanation. To keep the audience interested, the Indonesian film contains bloody deaths, violent scenes and intense action sequences.
The film focuses on a number of important topics, such as the harmony between siblings, seeking retribution for the death of a loved one, and discovering surprising explanations for one's animosity. The plot gets more and more exciting as the end approaches, with many unexpected twists and murders. Look no further for answers if "the conclusion of the Big 4" left you baffled—we've got you covered! Spoilers follow!
The Big 4 Plot Synopsis
The Big 4 are formally introduced to us in "The Big 4" as they rescue children from a human trafficking ring. Topan, Jenggo, Alpha and Pelor are gifted children whom Petrus adopts and raises as elite assassins. The Big 4 primarily hunts down and dismantles bad actors and groups. They have a unique legal system. Petrus somewhat neglects his biological daughter, Dina, while helping the Big 4.
Dina, who later becomes a police officer, is disappointed that her father did not show up for the ceremony. But when she goes home, she discovers Peter dead. She then makes the decision to find the culprit and avenge her father's death. On the other hand, the Big 4 are devastated when they learn of Peter's passing. They leave the group and finally settle in Bersi, where they first met Petrus.
Dina discovers the photo of her father with four young children three years later. When Bersi is mentioned, she decides to go there to ask for clarification. She approaches Topan and challenges him to answer her questions. Topan, meanwhile, deals with the attackers as they chase Dina to the Paranais Villa. To organize the gang and help them solve the problem carefully, Topan and Dina meet Jenggo and Pelor. The armed attackers continue to pursue them and engage in a fierce battle.
One of Southeast Asia's largest arms dealers, Antonio, has been linked to the attackers. A cold-blooded killer, Antonio. The four of them then escape Antonio's grasp and reach a safe location. They choose to travel to Alpha in search of additional weapons and safety. However, Antonio and his men are able to even reach Alpha's hideout. Soon after, the killers track down Dina and the Big 4. The exciting climax of the film is the final confrontation between the feuding villains.
The Big 4 Ending: Who Killed Peter? Why?
A helmet-wearing assassin kills Petrus in the first scene of the film. The mystery and suspense surrounding who killed Dina's father and the mentor of the Big 4 furthers the film's plot. When Antonio and Topan finally face each other, Antonio confesses that he executed Peter in cold blood. Topan is told that he killed Petrus as a result of Antonio's expulsion. Antonio was not what Peter intended of him, that's why he dumped him. Antonio killed Peter as payment for his misdeeds. He then makes the decision to fortify himself and defeat the Big 4.
Antonio was the first adopted child of Petrus. With the greatest effort and tenacity, Peter trained him. However, Peter comes to understand his mistake as a result of Antonio's ambition and icy attitude. Antonio had complete freedom to kill anyone he wanted. He lacked compassion, mercy, and the ability to distinguish right from wrong. Antonio was instructed by Peter in the use of a knife. Since Antonio is proficient with knives, he chooses to use them. Due to his unexpected traits, Antonio aspired to be one of the "Big 4", but Petrus knew better than to involve him in his quest for justice.
But Antonio also admits that he didn't do it on his own accord. His supervisor gave him the green light to kill Petrus. In the end, we discover that Hassan was the one who ordered Peter's death. Hassan is Petrus's good friend, Dina's boss and a police commander. He shows up for Dina's wedding and she even welcomes him as an uncle. It shows how close Hassan and Petrus were at the time.
Given that Hassan works in the police force, he must not have enjoyed Petrus's program teaching children how to fight and kill. Fighting injustice and defending the defenseless are the main goals of the Big 4. Hassan chose to kill Petrus because he considered it a breach of his obligations. Hassan betrays Peter, a friend. Hassan may have done this for money too, keeping in mind the notions of greed and corruption in contemporary society.
Peter must have mustered quite a few opponents over his years as a vigilante. Each of them may have contacted Hassan to complete the task. But it breaks my heart to see Hassan sacrifice his friendship for something else. A good friend is always worth more than any amount of money or moral principles.
Moreover, Hassan is not the only one responsible for Peter's death. Along with him is a woman who has a spider eye patch. She appears to be another adept assassin who is familiar with a knife. The mysterious woman is menacing and claims to still owe money to Topan. The Big 4 aren't Peter's only students, as Antonio points out; maybe this woman is one of the others.
Who is Suranto?
Antonio Sandoval was given the name Suranto at birth. To shake off his past and reinvent himself, Antonio gave himself some catchy names. He also refers to himself as the Scorpio of Southeast Asia and the Prince of 1001 Blades. Antonio thinks he can escape the horrible childhood events that haunt him by changing his name. He was trained to join the Big 4 and was the first son of Petrus. But his conceit and ambition bring him to ruin. He is rejected by Peter because he is not fit to stand up for justice.
Moreover, Antonio gets quite annoyed when Topan jokingly calls him Suranto. As soon as he hears his birth name, old memories bubble up in his head. Suranto was a lonely child who never had friends. While Antonio is a well-known and feared name in the arms trade. He enjoys a name he has chosen for himself and is content with the reputation he has built up over time. Suranto evokes Antonio's worst childhood memories and his insecurities. As a result, he drops that name and gives himself both a new and a new persona.
Why are the Big 4 leaving Dina?
After defeating Antonio and his crew, Dina calls the local police to report the many violations. She resumes her role as a police officer and carries out her duties. Dina keeps her word and keeps the commitment she made. The Big 4, on the other hand, seem to be falling back into their old ways. It is not difficult for experienced assassins to evade capture and achieve their goal stealthily.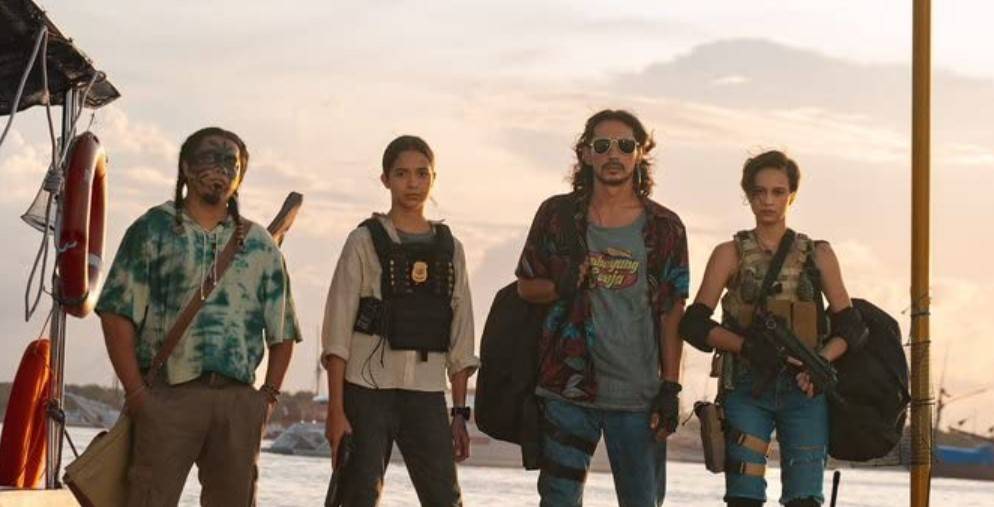 Dina develops a fondness for her father's adopted children. She is aware of the motivations behind the actions of the Big 4. However, she cannot give up her job. The Big 4 flee the island when the police show up to avoid being apprehended. To handcuff Dina to the window, Topan pretends to kiss Dina. They then had enough time to reach their car and drive off into the distance.
The Big 4 depart from Dina at the Villa, but make a quick commitment to reunite later. After their journey together to get revenge on their father's killer, the group develops a bond with Dina. Despite differences in behavior and profession, The Big 4 and Dina are bound by their love for their mutual father.
Being a binge-watcher himself, finding content to write about comes naturally to Divesh. From anime to popular Netflix series and celebrity news, he covers every detail and always finds the right sources for his research.