Meet Barbara Walters Only Daughter: Jacqueline Dena Guber, What Does She Do?
We'll assume at this point you're all aware of the passing of legendary newswoman Barbara Walters at the age of 93. She died at night at her New York City home on Friday, December 30, 2022, according to a report from ABC News. Among her loved ones, the pioneering TV journalist passed away peacefully at home.
The first female co-host of the Today show was Barbara Walters. Her cause of death has not been made public so far. She made her way into the world of television and carved out a niche for herself.
When we shed some light on the personal life of the famous journalist, we find out that although she was married four times in total, she only had one daughter from those unions. Barbara's only child is named Jacqueline Dena Guber. Read on to learn more about Jacqueline Walters.
Here's everything you need to know about Barbara Walters' only daughter, Jacqueline Dena Guber
Barbara was married several times throughout her life, but she only had one adoptive daughter, Jacqueline Dena Guber, also known as Jackie Danforth. During her second marriage to Lee Guber, she welcomed her adoptive daughter Jacqueline into her life.
From 1963 to 1976, Barbara and Lee Guber were married for 13 years. During her marriage to her second husband, Walters revealed in a previous interview with NBC that she had about 5 miscarriages.
Barbara and her then-husband Lee decided to adopt after five years of marriage. When their daughter was born in 1968, they named her Jacqueline Dena Guber in honor of Barbara's older sister. However, they hid Jacqueline's adoption.
Walters stated in a media interview that she made the decision to hide her daughter's adoption in part because she "really didn't want the birth mother to know" that Jackie had been taken in by her adoptive parents.
Barbara's daughter Jacqueline Dena Guber struggled with addiction
Yes, it's what you read. Barbara's daughter Jacqueline Dena Guber grew up in front of cameras because her mother was a well-known TV personality, but she struggled to keep up with her mother's fame.
In a 2002 interview with NBC News' Jane Pauley, Jacqueline spoke about her upbringing and shared how she felt out of place. She recalled at the time, "I never felt like I belonged in her world."
Danforth began skipping classes when she was a young adolescent in order to spend more time in New York's nightlife. According to a story by The List, she reportedly tried using amphetamine, valium, and other narcotics to mask her discomfort.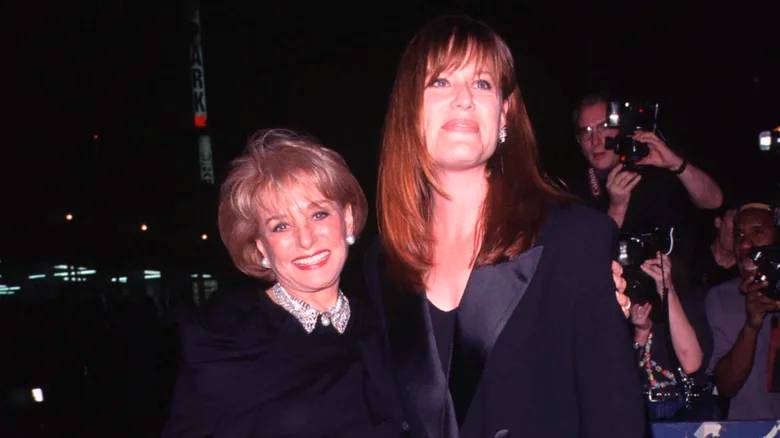 Jacqueline left her home in 1985 and hitchhiked 800 miles in one month. Barbara was upset at the time, but she followed the expert's advice and refrained from calling the police.
When Walters learned of her daughter Jacqueline's whereabouts, she sent a Green Beret to transport Guber to a wilderness intervention camp in Idaho. Sending a child away is heartbreaking, she added. She continued, "My baby? My child is no longer in my care. Should I pass her on to someone else? I did too.
Guber was then prepared to begin his recovery. She stated in the same interview, "At that point in my life I was looking around for whatever reason. And I thought, "Who cares?" This is no problem. I would not have survived if my mother had not called the transport company.
Guber eventually moved to Maine, where she married outdoor guide Mark Danforth. Soon after, she started her own wilderness rehabilitation program for teenage girls. Jacqueline is currently 54 years old.
Jacqueline Danforth has been through some tough times in her life
Jacqueline Danforth has been through difficult circumstances in her life. Unfortunately, since she and her mother sat down for the interview, Jacqueline has run into even more problems. After seven years, her wilderness rehabilitation program for young women, New Horizons for Young Women, was discontinued in 2008.
Danforth announced on its website that its wilderness therapy program is being discontinued. She continued by saying that the program could no longer run due to a financial crisis. "I have been so lucky to have had the most wonderful education and relationships in this field," she wrote at the time.
TMZ claims Jacqueline was detained by police for DUI in 2013 while in Naples, Florida. The term "DUI" means for "driving under the influence", for those of you who are uninformed.
At the time, Jacqueline was seen with a man who was believed to be her new lover instead of husband Mark Danforth. According to the police report, she would have behaved belligerently towards the police. She was later released after posting $1,000 bail.
Jacqueline, Barbara's only child, has since avoided the spotlight. Her current residence, marital status and employment are unknown at the time of writing.
Barbara Walters was married four times to three husbands
Robert Henry Katz and Barbara got married for the first time. In the year 1955, the couple exchanged vows and two years later in the year 1957, they divorced. Soon after, she continued to live her life with Lee Guber.
The television personality and theater producer Lee Guber, her second husband, married in 1976. The couple adopted their daughter Jacqueline Dena Guber while still married.
Nearly 5 years after her split from Lee, Walters married Lorimar Television CEO Merv Adelson. After exchanging vows for the first time in 1981, the couple separated in 1984. After deciding to give their marriage another chance, they remarried in 1986 before calling it off permanently in 1992.
As a proud mother, Barbara Walters. During this heartbreaking moment, our thoughts and prayers are with the entire family of the pioneering news anchor. Check back with us regularly for the latest information from the entertainment industry.
Being a binge-watcher himself, finding content to write about comes naturally to Divesh. From anime to popular Netflix series and celebrity news, he covers every detail and always finds the right sources for his research.