It Ends With Us Movie: What We Know About the Movie Adaptation
It Ends With Us, a well-known romance novel by Colleen Hoover, is being adapted for the big screen, and I've got all the information you need to know right here!
Even though I enjoy reading a lot, I also enjoy it when books are turned into movies or TV shows because I get to watch my favorite characters and plots come to life.
I never miss a romantic book-to-movie adaption, no matter which side YOU are on in the argument about which is superior, the book or the movie!
It Ends With Us, a book by Colleen Hoover, came out in August 2016, however it has since become one of Hoover's most well-read romantic novels and a smash success because to #Booktok.
Thanks to the numerous readers who praised it on Tiktok and other platforms, it has remained on the bestseller lists till 2022.
One of Hoover's most intimate romance novels, It Ends With Us won the 2016 Goodreads Choice Awards for Best Romance and was inspired by her mother's and father's relationship.
It Ends With Us Movie Plot: What's It About?
Since this is a film adaptation, it is reasonable to anticipate that the main themes of the original story will be followed, but there may be some minor alterations.
The main character in It Ends With Us, Lily, thinks that her life is too good to be true after growing up in Maine, attending college, and starting her own business.
Lily meets Ryle Kincaid, a stunning neurosurgeon, who now resides in Boston. Despite having a full distaste for partnerships, Ryle develops a sweet place for Lily.
However, as Lily's connection with Ryle develops, she can't help but be distracted by her first love, Atlas Corrigan.
When Atlas unexpectedly comes in her life, everything Lily had created with Ryle is called into question because he was her guardian and a kindred spirit.
Will the It Ends With Us Adaptation be a Movie or a TV Series?
A cinematic adaptation of It Ends With Us is currently planned.
Who is Developing the It Ends With Us Movie?
Actor and producer Justin Baldoni said on Instagram on July 15, 2019, that his production firm, Wayfarer Entertainment, will be working on the It Ends With Us movie.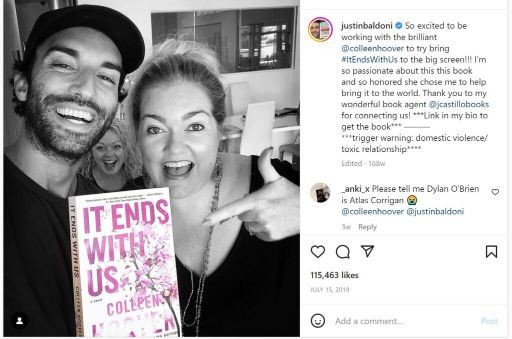 In addition to appearing in the Jane the Virgin TV series and helming the movies Five Feet Apart (2019) and Clouds, Baldoni is well recognized.
Five Feet Apart, Baldoni's first picture as a director, earned more than $80 million in international box office receipts on a $7 million budget, making it CBS Films' third highest-grossing movie of all time.
Whether or how author Colleen Hoover will be engaged with the movie is currently unknown.
Who is Cast for the It Ends With Us Movie?
There are currently no casting rumors for the It Ends With Us movie, but I'm sure fans are eager to find out who will play Lily Bloom, Ryle Kincaid, and Atlas Corrigan.
What is the It Ends With Us rating?
It is unknown how the It Ends With Us movie will be rated as Colleen Hoover herself states that the book's age rating is Mature 17+.
When Will the It Ends With Us Movie Be Released?
The movie's upcoming release has not yet been announced.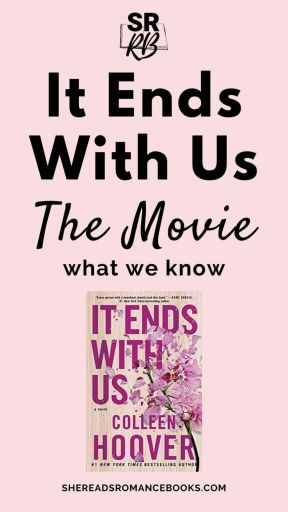 But I would anticipate a 2023 or 2024 release if the producers want to take advantage of the popularity of the current novel and its sequel.
Where Will the It Ends With Us Movie Be Streamed?
We don't know if the It Ends With Us movie will be offered on a streaming service or in cinemas at first because it is still in the development stage. Remain tuned!
There isn't a teaser or trailer for the movie It Ends With Us yet, but I'll publish them as soon as they're released!
Will There Be a Sequel to the It Ends With Us Movie?
We can guess whether there will be a sequel to the movie It Ends With Us as we wait for its release.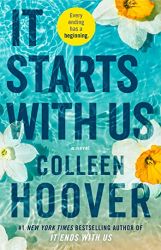 Colleeen Hoover will publish a new romance novel titled It Starts With Us in October 2022.
The eagerly awaited follow-up to It Ends With Us is called It Starts With Us.
It Starts With Us, a 2022 publication by Colleen Hoover, continues this plot between Lily, Ryle, and Atlas and provides Atlas' perspective.
We can only hope that if the It Ends With Us movie is a hit, an It Starts With Us movie won't be far following.
It Ends With Us Movie Production Timeline
Release of It Ends With Us in August 2016.
On Instagram on July 15, 2019, Justin Baldoni declares he will be producing the It Ends With Us film.
In December 2020, Baldoni makes a screenwriter hiring announcement for the It Ends With Us movie script.
Baldoni declares that the first draft of the It Ends With Us script is finished in September 2021.
As more information on this movie becomes available, I will update this paragraph.
Other Colleen Hoover Books to Movie and TV Adaptations
While Colleen Hoover's It Ends With Us will be the first of her books to be adapted for the big screen, it's not the first.
Confess, Hoover's love story, was turned into a TV show by Awestruck, which you can watch on Amazon Prime Video. The series stars Ryan Cooper and Katie Leclerc.
Our Team DCS includes 5 different writers proficient in English and research based Content Writing. We allow them and encourage them to follow the Entertainment news all day long. Our posts, listicles and even the exclusives are a result of their hard work.