Glass Onion (2022) Movie Explained: Why Was Andi Killed?
Another excellent murder mystery produced by Netflix is ​​"Glass Onion: A Knives Out Mystery" written and directed by Rian Johnson. It breaks the dry spell that had driven Benoit Blanc crazy. He receives an invitation to an island where he must participate in a game that revolves around the murder of the event's host. The motives and aspirations of each person, including Blanc, are soon revealed and we learn that a murder has already taken place before Blanc and the others arrived on the island. Andi was the one who was killed, and her passing led to a hectic weekend where every secret was revealed. Here we show you the chain of events leading up to Andi's death and Blanc's involvement in the investigation. Spoilers follow!
Andi and Miles start a company together
We get the impression that Miles is a genius who invented Alpha and is now working on other groundbreaking inventions in the first half of the film. But it turns out that Andi was the mastermind behind everything. In reality, she was the one who organized the group as a whole. Long before they met Miles and their careers took a turn for the better, Duke, Claire, Birdie and Lionel were Andi's buddies. Andi had faith in them despite their early failures. For Miles, she followed suit.
It's unclear how Andi first got in touch with Miles, but once she did, she gave him the same advice she gave to her other friends: follow your aspirations. They all became close to him after she introduced him to the group, in part because he helped them with their personal problems. While they were all hanging out at the Glass Onion pub in the meantime, Andi got the idea for Alpha. She gave Miles the draft after recording it on a napkin. They founded a company together that made them each billionaire.
Andi and Miles fall out
Because Alpha was so well received, Andi and Miles devised strategies to increase their hegemony. When Miles came up with concepts that seemed unattainable, Andi chastised him. The exchanges between different people in the film show that everyone finds Miles' thoughts absurd. The investors are in discussion with Lionel about how unrealistic Miles' new proposal is in its early stages.
Andi was the only person who could tell Miles the truth, unlike everyone else. She was aware when he was building imaginary fortresses and didn't think twice about confronting him with the truth. Andi informed Miles that the Klear concept would not work as soon as it came up. She carefully considered how the whole plan would go horribly wrong and bluntly informed her husband that investing in such a thing would not be beneficial to them, especially since Miles was willing to put everything they owned into it.
Andi threatened to leave the company and take half of it with him if Miles didn't give in. With no money to launch his new project — and knowing Andi was the idea behind it all — Miles would soon be out of business. So he devised a legal strategy that completely forced Andi out of the company, leaving her with nothing. She responded by suing him because it was her idea that originally founded the company. Intellectual property was at stake, and Andi insisted she shared the idea with Miles and wrote it all down on a napkin.
Miles kills Andi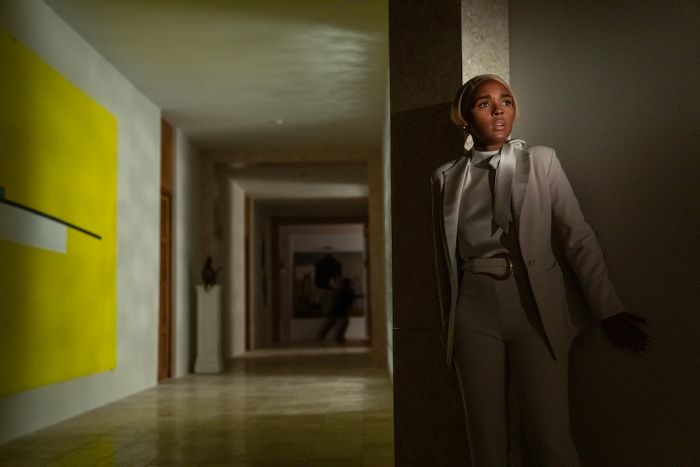 Andi only erred in one way: she failed to save the napkin. Or at least she couldn't remember where she kept it. Miles responded by saying he was the one who came up with the idea. He forced Claire, Birdie and Duke to lie for him as an excuse. When he supported Claire's campaign and helped Birdie and Duke launch their independent ventures, he had already bought them with his own money. They all stood forward to formally acknowledge that Alpha was Miles' concept, vowing to do so. Andi lost both the lawsuit and ownership interest in her company as a result.
Miles created his own iteration of the napkin after Andi was fired from the company. Miles made up a story about himself that portrayed him as a genius to the outside world, because Andi didn't have the original and he had already won the lawsuit. In his interviews, he constantly emphasized how he was the one who had the original concept. But eventually Andi found the napkin again. She forgot because it was hidden in one of her books.
Andi was now able to present Miles in court with strong evidence. Finally being able to establish Alpha's ownership would not only help her regain control of the company, but would irreparably damage Miles' reputation. Her napkin had the Glass Onion written on it, but Miles' didn't, because the bar closed shortly after Andi invented Alpha, answering the question of whether it was real or not.
Andi revealed the napkin to her companions after having concrete evidence in her possession. She emailed them all. Miles, who at the time, unbeknownst to anyone, was in New York for Whiskey's birthday, received it from Lionel and gave it to him. He knew he was about to lose everything as soon as he heard about the original napkin, and at that point he couldn't afford it. Moreover, he was aware that no matter how he begged or threatened Andi, he could never change her decision.
Miles eventually came to the conclusion that killing Andi was the only effective method to prevent her from telling the world the truth. He pretended to have a conversation when he went to her place. Andi was aware of his horrible character, but she didn't believe he was capable of murder, so she ignored his antics. In one such instance of carelessness, Miles added a sedative to Andi's drink. Andi suffocated after being placed in a moving car after he took her to the garage after she passed out.
Andi's death was not determined to be suicide when she was discovered. No one would find it hard to believe that she had killed herself out of desperation, given that she had recently lost the business and company. However, Helen, her sister, was wiser. She immediately realized that Andi was about to make things better for herself so she wouldn't have committed suicide. Andi's actions were also very unusual.
Helen looked for the red envelope after discovering Andi's email, but couldn't find it. Helen then discovered the invitation to Miles' island in the mysterious package he had sent. All the people Andi had sent emails to would be there, so she realized this was her chance to solve her sister's murder. As a result, she went looking for Benoit Blanc, and they traveled to the island together to find out what really happened to Andi.
Our DCS team consists of 5 different writers who are proficient in English and research-based content writing. We allow and encourage them to follow the entertainment news throughout the day. Our posts, lists and even the exclusive offers are the result of their hard work.